Sidebar
Synthetic Winch Rope 3/8" x 85' - 23809 Ibs (Black)
: In stock
: Winch Accessories
QUESTIONS & ANSWERS
Have a Question?
Be the first to ask a question about this.
Ask a Question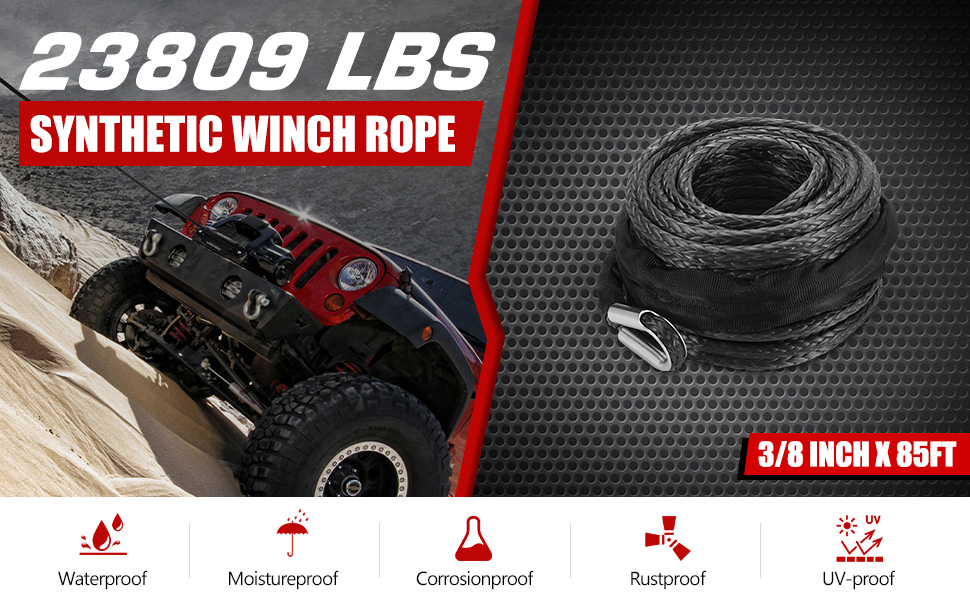 Read More…
Fieryred, which has been engaging in the R&D of off-road devices and striving to make outdoor experiences more affordable and enjoyable, takes dedication to the customer as the core value of the company. Safety has been a major focus in the manufacturing of the Fieryred synthetic winch rope, the ultimate performance of which has earned a good praise among our customers. The steel cable, however, can rust and develop sharp burrs, which will inevitably cause inconvenience in use. And it is much heavier and less flexible compared with the synthetic ones. Weighted only 4.2 lbs, this winch rope from Fieryred is actually a heavy-duty as it has a breaking capacity of 23,809 lbs which is definitely more than enough for most people.
FEATURES
This heavy duty winch rope is composed of high density Dyneema strands and can bear up to 23809 lbs breaking strength.
High strength and light weight, this winch rope is water resistant and can float on water surface.
The winch rope is unkinkable and retains original shape with no splinters. Low mass, low recoil reduces risk.
The winch rope owns an extra level of protection and durability, is UV, chemical and weather resistant as well.
Low stretch with no recoil in unlikely event of breakage.
SPECIFICATIONS
Color: Black
Material: Dyneema
Sleeve Length: 59inch
Size: 85.3x0.03FT
Breaking Load: 23809LBS
Weight: 4.2LBS
PACKAGE INCLUDE
1 PC(s) Synthetic Winch Rope
Fieryred offers free shipping to all products via a variety of shipping methods as listed below. Shipping times are based on business days (Monday to Friday) excluding Holidays and weekends. Depending on your order, your purchase may arrive in multiple packages.
Available Shipping Methods:
Ground: Most Fieryred products have free ground shipping offered and can take between 3-5 business days.
Two Day: Second Day delivery orders will be processed on the same day if placed by 12:00pm PST on a business day or processed the following business day if placed after 12pm PST.
One Day: One Day delivery orders will only be processed on the same day if placed by 12:00pm PST on a business day or processed the following business day if placed after 12pm PST.
RETURN
All products sold under the brand of Fieryred are covered with a 14-day return policy. If you wish to return the product within 14 days after you receive it, send an email to:[email protected], in which you should explain the reason for return and provide sufficient proof (such as photo or video) when necessary.
After you have sent the e-mail, return the product to us in new condition and if possible, in the original packaging. To protect the product from damage during travel, fold it carefully, the way it was folded at the factory, and enclose it in the original or a similar plastic bag and carton.
Once we receive the item(s) in new condition, we will gladly issue a refund according to the Return Policy