Sidebar
Jack with Recovery Traction Boards-1pcs Truck Jack 2Pcs Traction Mats
: In stock
: Traction Mats
QUESTIONS & ANSWERS
Have a Question?
Be the first to ask a question about this.
Ask a Question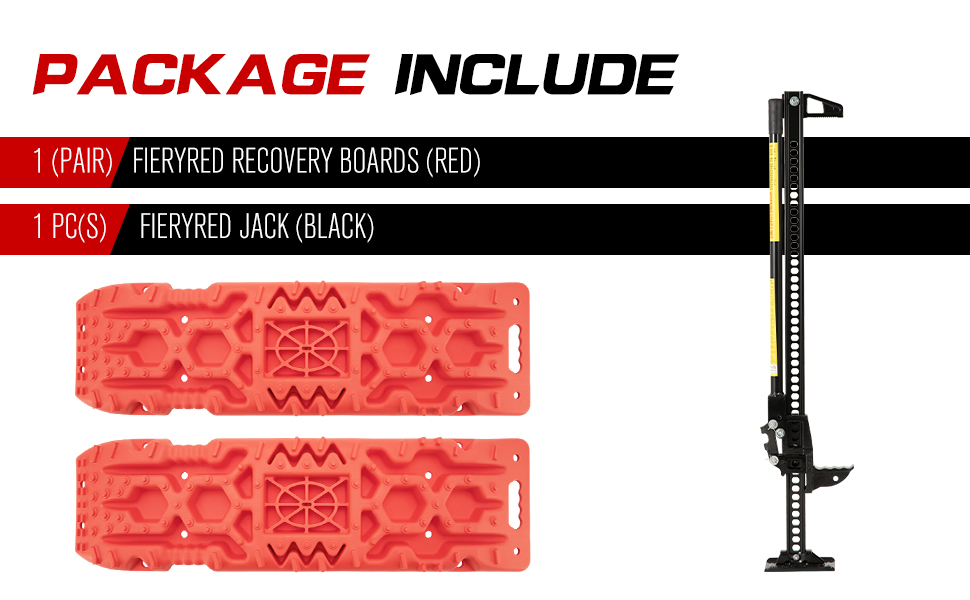 Read More…
Recovery boards are great because they can get you out of a tight spot and back on the trail. But there are times when they are not so great, when you get a flat tire on them. And this is where Fieryred recovery kit comes into play.This Fieryred recovery boards (Registered Design Number 201916921), made of UV-stabilized automotive grade Polypropylene, is designed to withstand up to 10 tons of weight and extreme flex. And its teeth have been strengthened to prevent instant melting against wheel spin. And our 48" truck jack further features a forged iron construction with rust and corrosion resistant e-coating. At 6,613 pounds weight capacity, this jack will conveniently raise heavy vehicles with ease to carry out repair work, and is ideal for any application that deals with lifting, clamping, winching and spreading.
FEATURES
Complete Suite: This set of tool, which includes a pair of traction boards, which integrate built-in jack bases (125x185 mm) in the center, and a 48" truck jack, is a perfect match for recovery when there is no assistance available
Rigidity & Flexibility: UV-stabilized automotive grade Polypropylene enables the track (Registered Design Number 201916921) to withstand 10 tons of weight, and it is designed to be used in ambient 60℃ to -30℃ and can be bent up to 90°.
Aggressive Teeth: The teeth, which are perfectly positioned to firmly bite the grooves of tyres to prevent your vehicle from slipping back, will not melt against drastic wheel spin.
Tough Construction: Made of forged iron with rust, corrosion resistant e-coating, this Fieryred truck jack has a maximum lifting capacity of 6,613 pounds and will last for a longer period and give you effective results.
Versatile Functionality: Able to lift, lower, winch, clamp and spread, this 48" truck jack also works as a fire rescue tool and farming-related applications, e.g. lifting agricultural machinery, fence posts, pulling bushes and tree stumps, etc.
SPECIFICATIONS
Color: Red
Material: UV-Stabilized Automotive Grade Polypropylene
Package Dimensions: 48.82 X 14.17 X 11.02 inches
Gross Weight: 47.18 pounds
Warranty: 2 Years
Maximum Load : 22,046 lbs
Jack Bas: 4.92 x 7.28 inches
Ambient Temperatures: -30°C (-22°F) ~ 60°C (140°F)
Jack:
Color: Black
Dimension: 48 inches
Material: Forged Iron
Surface Finish: -coating
Maximum Weight Capacity: 6,613 lbs
Clamping Capacity: 750 lbs
Winching Capacity: 5,000 lbs
Lift Rang: 4.33 inches ~ 41.34 inches
PACKAGE INCLUDE
1 (Pair) Fieryred Recovery Tracks
1 pcs truck jack
Fieryred offers free shipping to all products via a variety of shipping methods as listed below. Shipping times are based on business days (Monday to Friday) excluding Holidays and weekends. Depending on your order, your purchase may arrive in multiple packages.
Available Shipping Methods:
Ground: Most Fieryred products have free ground shipping offered and can take between 3-5 business days.
Two Day: Second Day delivery orders will be processed on the same day if placed by 12:00pm PST on a business day or processed the following business day if placed after 12pm PST.
One Day: One Day delivery orders will only be processed on the same day if placed by 12:00pm PST on a business day or processed the following business day if placed after 12pm PST.
RETURN
All products sold under the brand of Fieryred are covered with a 14-day return policy. If you wish to return the product within 14 days after you receive it, send an email to:[email protected], in which you should explain the reason for return and provide sufficient proof (such as photo or video) when necessary.
After you have sent the e-mail, return the product to us in new condition and if possible, in the original packaging. To protect the product from damage during travel, fold it carefully, the way it was folded at the factory, and enclose it in the original or a similar plastic bag and carton.
Once we receive the item(s) in new condition, we will gladly issue a refund according to the Return Policy